Compact AMB OB van for demanding sports productions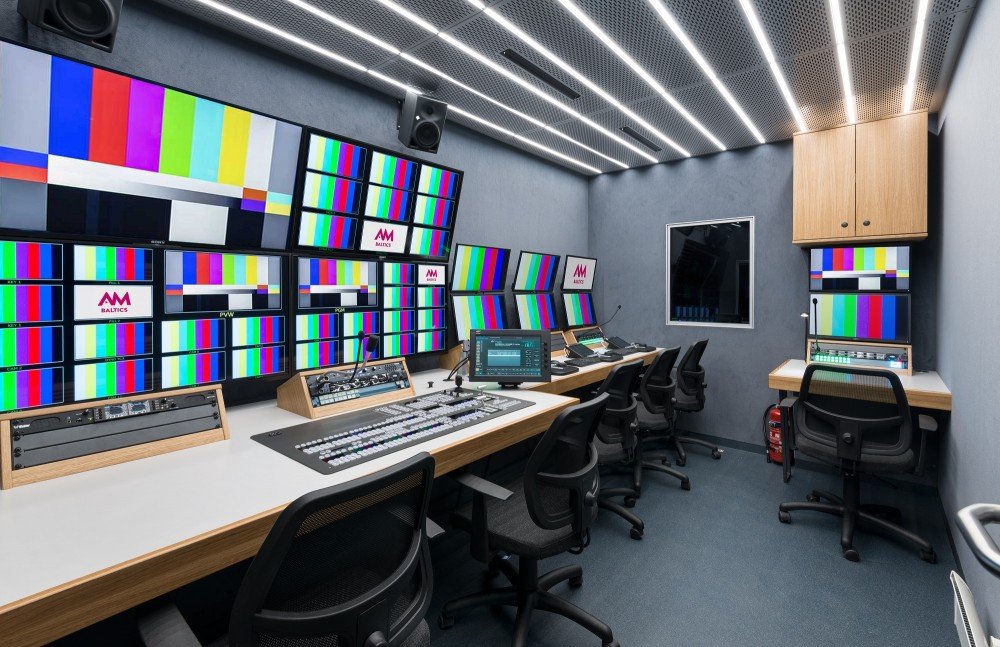 TVC | Television and Communication Systems Ltd., a broadcast systems integrator and specialist OB coachbuilder, has recently delivered a custom-built 13 HD cameras outside broadcast van to All Media Baltics (AMB). Following a rigorous project planning process, working in association with Ravensbeck, the media industry transformation experts, TVC was awarded a contract in December 2017 and delivered a turn-key OB van on a rigid-truck chassis in 7 months – the best delivery lead time for custom-built OB in the industry.
All Media Baltics, a newly formed media group following acquisition of MTG Baltic by Providence Equity Partners, operates the largest number of TV channels in the Baltics with diverse production of sports, TV shows and local live events. It was economically reasonable to invest in an OB van and replace high rental costs. Owning an OB van enables more production of complex broadcast projects and live events that draw more and more viewers to the screens.
TVC was approached by AMB and Ravensbeck teams as the leading systems integrator in the region with a track-record of numerous international OB van projects. Following rounds of discussions with teams on both sides the goals and challenges of the project were identified:
AMB requires an OB van for production of diverse sport and show events;
OB van solution must be economical to meet ROI targets against OB rent alternative;
Economical solution must not compromise production quality and functionality;
Production team must enjoy ergonomic, spacious and pleasant working conditions;
Deliver OB van in 7 months for the start of new season productions in July
Without meeting any one of these goals, the project's viability was highly questionable. Working closely with customer's project team TVC was able to create a solution that met all criteria and enabled the project.
It was identified that production of diverse sports and show events requires at least 13 HD cameras, a production staff of minimum 10 persons, including 3 slow motion operators to ensure multi-angle replay production for sports. To accommodate these requirements TVC designed a completely new OB layout on 18t self-propelled Volvo FL250 chassis. The layout comprises a traditional three-room design for separated vision control, video and audio productions. Camera operators are positioned in front of main equipment racks equipped with custom designed doors serving both as a monitor rack and noise encapsulation. Production room was designed with special attention to the ergonomics of the individual operating spaces. As a result, 6 operators can work comfortably in what feels as an incredibly spacious room. Production and audio rooms are linked with acoustic window for visual communication within the production team. Audio room is additionally noise isolated and acoustically treated to ease operator's task for production of highest quality audio. Further ergonomics and comfort are ensured by high quality finishing materials, dual conditioning system in each room, ventilation system based on heat-exchanger and motorized cable drums for quick set-ups.
One of the main winning factors for awarding this project to TVC was a broadcast system proposed by TVC's system architects. Production tools include field-proven and reliable technology by leading global brands. TVC equipped van with 13 Sony HDTV cameras including one slow motion camera. Production is powered by Grass Valley Karrera 2 M/E vision switcher, signals are routed by GV Vega 400 series router and monitored with GV MV-820 standalone 48 channels multiviewer. For multiformat signal distribution and processing GV IQ modules and GV Kudos SV2000 processors were used. Slow motion replay system utilizes two GV K2 summit 3G+ servers with three DYNO S controllers. The resulting video system is the best in class for functionality and quality.
Yamaha CL5 is the main audio console handling a variety of audio signals and enabling multiple mixes to be produced. Yamaha TF-Rack is ideal for back-up mixer and is also compatible with Yamaha's Rio1608-D and Rsio64-D stage boxes used in the OB. AEQ Olympia 3 commentator units seamlessly integrate with Yamaha's equipment over Dante network. Intercom is handled by ClearCom HX Pico system with 36 P matrix.
This OB truck is a long-needed addition to All Media Baltic's TV production fleet. It will help fulfil the growing demand for outside broadcast facilities in the Baltic region. It is suitable for producing ice hockey, basketball, football and other main season sports events as well as complex TV shows and live events. The truck will debut in July 2018 with X-Factor Latvia production.
Highlights
Coachbuilding
Volvo FL 250 frame truck with impressive and innovative layout and space concept
Total weight 14 t.
OB body length 8,3 m.
Three working rooms with a total of 10 operational positions
Motorized cable drums
Encapsulated low noise racks
Video technology
13 Sony HDTV cameras including one slowmotion
Fujinon lenses 12x-77x
GV Karrera 2ME vision switcher
2 x GV K2 summit 3G servers and 3 x Dyno S controllers
GV Vega 400 video router with 192 ports, configured 72 inputs and 120 outputs
Various TVlogic monitors 17"
GV MV-820 multiviewer with 48 inputs and 4 outputs
Audio technology
Yamaha CL5 audio mixer 32 faders, 72 input channels
Two stage boxes
Clear Com intercom system with HX Pico 36P including wireless belt packs Free Speak
Commentary unit AEQ Olympia 3
Audio monitoring with K+H loudspeakers
Measurement RTW TM3-3G Smart