Up to 9 cam HD OB van set for National Television and Radio Company of Uzbekistan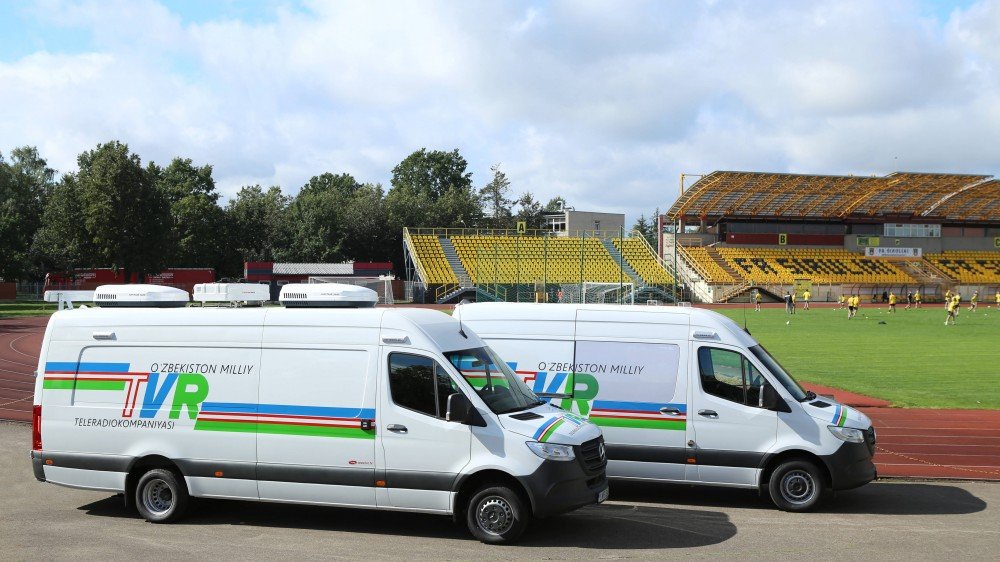 By the order of National Television and Radio Company of Uzbekistan TVC have produced and delivered OB van set consisting of main OB van built on MB Sprinter 519 CDI and auxiliary / support vehicle built on MB Sprinter 316 CDI.
TVC have performed OB VAN coach-building services, including power system installation, air conditioning, ventilation, heating systems, audio - video and intercom equipment installations.
A. VIDEO
Installed 5x Sony HXC-FB80HL Broadcast cameras with camera and studio fiber converters
LEMO SMPTE 311 connectors on Cameras with Furukawa ARIB cables.
Canon UHD Camera Lenses.
Libec Tripods.
2x Cranes Polecam PR050 PPP.
Additionally installed 2 Marshall HD PTZ cameras and 2 Marshall HD Broadcast POV-Cameras.
Vision Switcher: Ross Video Carbonite Ultra 2M/E with control panel.
Video Router 32x32 ULTRIX Ross Video.
Character Generator Ross Video XPression Studio Single.
Monitors in the Production Area: 2x Sony FW-43XE8001
Monitors in the Camera Shading Area: 1x Konvision KVM-1760D and TEKTRONIX WFM5200.
Slow motion server SLOMO 6 channels RU6H-A2-8T.
HardDisk Recorders: 2x AJA Video KI-PRO-ULTRA
Digital Glue Products: Ross Video OpenGear.
Tally and UMD controller: TSL TM1 MK2.
Master time and SPG: Courtyard CY460D with GPS option.
B. AUDIO
Audio Mixer: YAMAHA TF1
Stereo Sound: YAMAHA MSP 3
Microphones: Sennheiser K6/ME series & Evolution 500
Multi-Track Audio-Recorders: audio server
Audio Measurement Equipment: RTW TM3GS.
C. INTERCOM EQUIPMENT
Trilogy Gemini IP Matrix system
D. MAIN OB VAN COACH BUILD
Vehicle: MB sprinter 519 CDI:
Power: 3x400Vx16A
Fischer Panda 15VA
Eaton UPS 6kVA
Length - 7.5 m
Width – 2.4 m
Height - 3.25 m
Weight - 5 t
E. SUPPORT OB VAN COACH BUILD
Vehicle: MB sprinter 316 CDI:
Length - 6 m
Width – 2.4 m
Height – 2.7 m
Weight - 3.5 t
Five plus driver comfortable seats and a separate cargo room
Convenient cargo compartment with racks
Outside and inside led light from service battery
Power input 16A/230V
Coach Builder: TVC
System Integrator: TVC
The National Television and Radio Company of Uzbekistan is the only broadcasting media structure in the country, distributing its television and radio programs covering 100% of territory of the republic.