Building two DSNG trucks for the Kuwait TV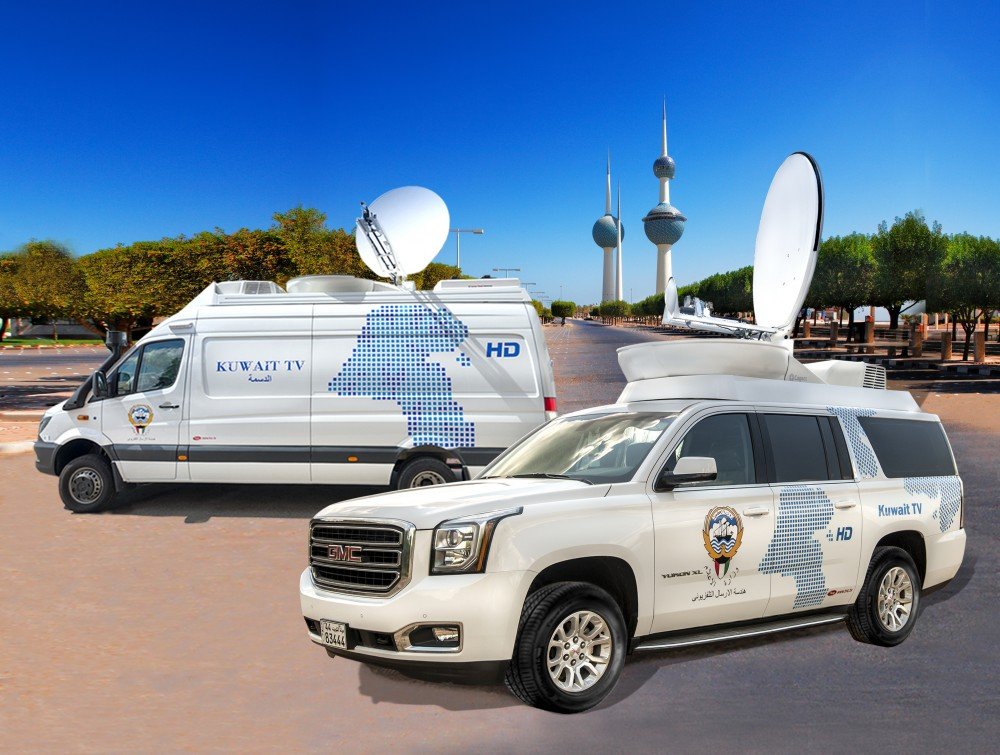 KTV wanted to modernise its fleet of DSNG vehicles and infrastructure so that it could migrate its live broadcast operations to HD. Lithuanian systems integrator TVC won the bid for the project and was contracted to deliver a turnkey project that involved building two DSNG trucks for the broadcaster.
The contract covered the design, manufacture and integration of DSNG terminals onto two vehicles, plus a complete range of engineering, training and operator support services. The vehicles that were integrated in the TVC headquarters in Lithuania boast supply microwave link systems, vehicle mount satellite systems and fly-away satellite systems.
The two products within the "Satlinks'' range used for these vehicles included a 1.2 metre antenna fitted on a GMC SUV vehicle and a 1.5 metre antenna fitted on a Mercedes Sprinter 4×4 vehicle. Both vehicles were configured with fully integrated uplink chains and automatic satellite acquisition was provided via CogenTRAC control systems.
The antenna is configured to automatically seek and track all major Ku-band satellites in the area. Also accommodated on the vehicle is a single thread flyaway system. This can be easily removed and deployed locally or overseas to provide flexibility of operations. In addition to the uplink equipment, we also built comprehensive monitoring facilities.
Both the satellite vehicles have been cabled for future expansion. The relays can feed HD signals into the vehicles and also from the vehicles back to the studio.
All the links are fully redundant CogentLink 2HD and utilise the latest transmission technology, DVT T2 COFDM modulation, allowing resilience to interference.
The main challenge was to deliver the trucks in a short period of time. We have previously worked on similar projects in Lebanon, Qatar, Algeria and Morocco in the MENA region. So our previous experience helped us in implementing this project efficiently.
The first unit is based on SUV GMC Yukon 4×4 carrying two portable Honda generators supplying 6KW of power. The uplink chain is fully redundant with two 400W high power amplifiers (HPA's) feeding a compact 1.2 m Ku-band antenna. The vehicle has enabled Kuwait TV to add more live broadcasts into the daily news programming.
The second DSNG unit is built on 4×4 Mercedes Sprinter 515 van. A long wheelbase van offers enough space for three complete workplaces. There is more room in the rear cargo section for additional mobile equipment. The truck body is specially suited to the GCC climatic conditions with extra body insulation and it also carries fully redundant equipment built on a five-tonne chassis. The van is modified by adding levelling jacks, roof mount triple tropicalised air-conditioning system up to 52˚C (13500 Btu) plus external lightning system.
The coach modifications by TVC also include the installation of on-board diesel generator Fischer Panda 15kVA and UPS 10 kVA, enabling the truck to work anywhere in the Arabian Gulf.
The sprinter design includes optimum use of the space on the roof to accommodate generator radiator, three air-conditioning units and the antenna. The bigger truck is fitted with an on-board 15k VA Fischer Panda generator, comprising a compact and super silent three-cylinder diesel engine, which powers the vehicle for all its broadcast operations. In addition, there was a requirement to have a fully redundant configuration for both trucks.
The satellite feed from the van is via a 1.5 meter Cogent sat dish, with Ericsson encoding and two rack mounted 400W high power amplifiers with 1:1 auto redundancy. The vehicle is equipped with an auto-deploy satellite antenna customised to operate with specific Middle East-targeted satellites Arabsat, Eutelsat, Intelsat and others.
For RF spectrum analysis, a Rohde & Schwarz FSL18 9KHz-20 GHz has been deployed. Other key equipment in the trucks include two Rx8200 IRDs and two Ericsson AVP3000 decoders.