Kukl HD OB van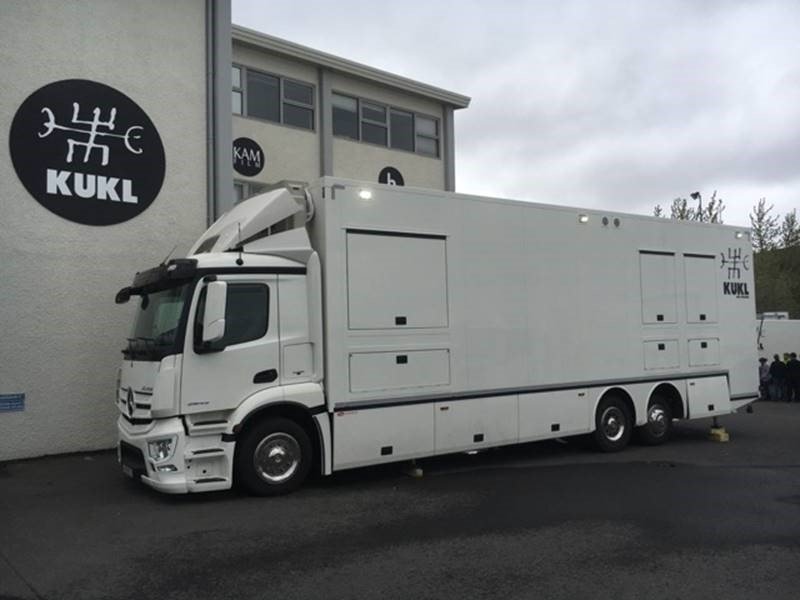 Kukl is a proud OB service provider for most large scale OB projects in Iceland.
Equipped with our comfortable truck and the latest technology Kukl have built a long time successful relationship with most of Iceland´s biggest production companies and TV channels, along with successful cooperation with foreign colleagues from around the world visiting Iceland in the need of OB support.
A few of Kukl HD OB van options to mention:
16 pcs. Sony HXC-100 cameras (2pcs. full controllable wireless links)
Full Dolby Digital sound mixing suite
64ch multitrack recording
UPS backup battery system (up to 30min)
Full redundant video recording
8 channel HD slow motion server
Video routing 128x254
Trilogy 34 port talkback system
Ross carbonite black video mixer
HD /SD Up-Down converters
Aspect ratio converters
HD /SD synchronisers
IP -Broadcast encoders
About KUKL:
Kukl is a leading equipment rental and service for television and film production. With excellent service, top employees and top of the line equipment Kukl has become a well-known name around the world. At out warehouse you can find anything you need for your next project in Iceland. Whether it's a Canon kit to photograph the Northern Lights or you need full support for your final helicopter shots for your next Hollywood blockbuster, we've got it!
Web: http://www.kukl.is/