LRT mini DSNG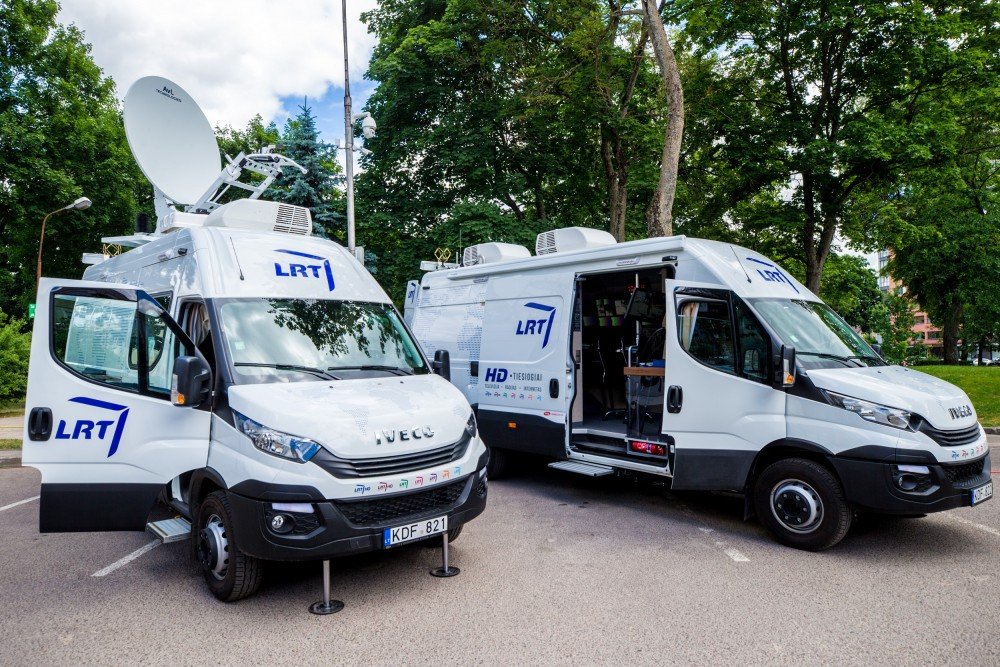 LRT mini DSNG built on Iveco Daily panel van a total weight of 6.2 tons. It is auxiliary van with DSNG functionality, that carries cameras, lenses, tripods, cable reels, TV cranes and other equipment in cargo area. Despite the limited space available, satellite uplink could easily be achieved.
Installation details:
Vehicle: Iveco Daily 70-180 Hi Matic, 6.2 t.
Roof mounted air conditioning in the vehicle interior
Self-sufficient with internal generator
Technology:
KU band system from AVL 1.6 m. satellite antenna
HPA 400 W Xicom outdoor type
Harmonic coding / decoding
Avcom monitoring
Wohler audio / video monitoring
The station holds several newly designed systems. The full-automatic coach stabilizing and self-levelling system was first installed and tested.
This new DSNG van was designed with creative engineering ideas and maximum flexibility in mind. Utmost attention was paid to the ergonomics of the individual operating spaces, the simplicity of the maintenance and ease of access to the equipment. To enable autonomous OB van operations Fischer Panda super silent generator of 15 kVA is installed in the generator area of support van. Also, following LRT requirements, a comfortable crew rest area was designed inside the support van. 3 operators in total can travel to production locations in certified seats and air-conditioned room. Staff room is equipped with all comfort equipment to prepare for and rest after demanding productions.
Auxiliary van equipped with 1,6 m. satellite antenna from AVL technologies, outdoor type 400 W power amplifier from Xicom and signal coding / decoding and monitoring equipment from Harmonic, Avcom and Wohler. The signal coding equipment is installed in the rack mounted flight cases and can only be taken to the event when it is needed. The satellite system is designed and installed in accordance with the requirements of the EBU for this type of station and may carry out EBU - ordered broadcasts.
The station is designed for small events coverage and meets the requirements of international broadcast organizations. Auxiliary van can be used as a separate independent satellite station.
About LRT
Lithuanian National Radio and Television (LRT) is a non-profit, government funded public broadcaster that has been providing regular radio services since 1926 and television broadcasts since 1957. LRT operates three national television, three radio channels and internet portal. It also provides satellite and live internet broadcasts, radio and television podcasts. LRT joined European Broadcasting Union (EBU) in 1993. www.lrt.lt