LRT OB-X largest in the fleet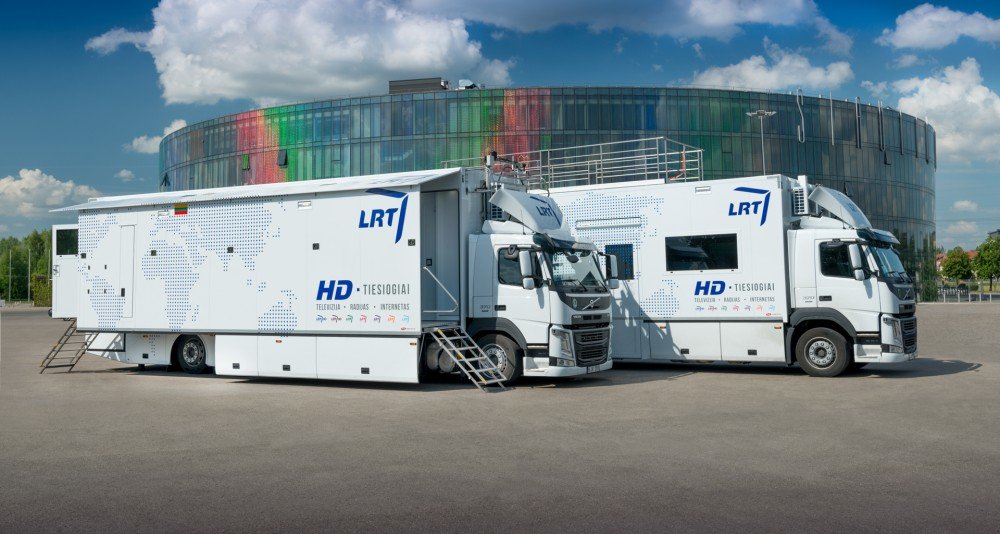 TVC was tasked with the design and delivery of a full set of OB vans to Lithuanian National Radio and Television (LRT), consisting of 2 vehicles, main OB van and auxiliary / support vehicle, including generator system. Cutting edge technology 16 camera live production vehicle named LRT HD OB X is the biggest addition to LRT OB Van fleet and will serve in major live events and sport productions.
The Challenge
As part of its quests to become the leading broadcaster in the Baltics, LRT wanted to expand OB fleet with modern HD mobile production unit. To meet the client's high demands for the design and audio acoustic isolation of production control areas was the main challenge.
The Technology
Production path is powered by Grass Valley (henceforth GV) Kahuna 3 M/E main production switcher with Maverik control panel and Grass Valley Kula for second program production. Signals are routed by GV Sirius 830 matrix with integrated multiviewers. Multiformat GV IQ, GV Kudos and Lawo Vpro-8 converters are used for video processing. Studer Vista V audio console allows multiple surround mixes with capability of producing a variety of audio signals.
Clear Com intercom combination of the HX-Delta digital matrix with V-Series panels and Free Speak II wireless intercom gives LRT a communications flexibility, making it much less stressful to manage the broadcasting of high profile events. Clear Com system enables the employees in the LRT OB van to effectively coordinate between the OB's production area and camera operators.
For the recording servers and slow motion EVS' XT3 server was opted based on its HD capabilities and full compatibility with the Sony cameras, as well as its renowned performance and reliability. In the LRT van, the XT3 server configured in a 8-channel SD/HD and 1080p configuration compatible with super motion configuration. With its flexible eight-channel configuration, the XT3 enables complete media control from ingest to playout, including live editing, slow motion replays, multi-channel playback and transfer to third-party systems such as craft editors, automation, archiving and storage.
Coachbuilding solution
To provide enough space for all equipment and LRT operational staff TVC built OB on a Volvo FM62R frame truck chassis, body is equipped with a dual expansion with one side over the full length of the body and other for a monitor wall.
The station holds several newly designed systems. The full-automatic coach stabilizing and self-levelling system was first installed and tested, allowing the side extensions and stabilizing systems synchronised working by one button press. The automatic system is equipped with more than 50 sensors to make the sides moving and station deploy/stow most safe and informative. In addition, the internal cameras help operators to see what's happening inside the truck during stowing. All power supply control and lighting system is microcomputer controlled, allowing complex working algorithms in various conditions. With this new station, TVC made one more step forward in the evolution of her products and is proud to offer it first for largest broadcaster in Lithuania, the National radio and television company.
Talking about interior design, OB-X was tailor-built to the customers' wishes. Completely new body design was built to significantly improve acoustic isolation of production areas. Audio room is completely separated within expanding side to retain ideal exterior noise isolation conditions. This new HD OB van was designed with creative engineering ideas and maximum flexibility in mind. Utmost attention was paid to the ergonomics of the individual operating spaces, the simplicity of the maintenance and ease of access to the equipment. There are total 16 operator positions.
The main vehicle is accompanied by the auxiliary van, that carries cameras, lenses, tripods, cable reels, TV cranes and other equipment in cargo area. The storage room is equipped with a hydraulic platform for easy loading and unloading. In order to enable autonomous OB van operations Fischer Panda super silent generator of 40kVA is installed in the generator area of support van. Also, following LRT requirements, a comfortable crew rest area was designed inside the support van. 6 operators in total can travel to production locations in certified seats and air-conditioned room. Staff room is equipped with all comfort equipment to prepare for and rest after demanding productions.
About LRT
Lithuanian National Radio and Television (LRT) is a non-profit, government funded public broadcaster that has been providing regular radio services since 1926 and television broadcasts since 1957. LRT operates three national television, three radio channels and internet portal. It also provides satellite and live internet broadcasts, radio and television podcasts. LRT joined European Broadcasting Union (EBU) in 1993. www.lrt.lt